Advantages of an Auto Car Wash
Views: 1 Author: Site Editor Publish Time: 2022-08-30 Origin: Site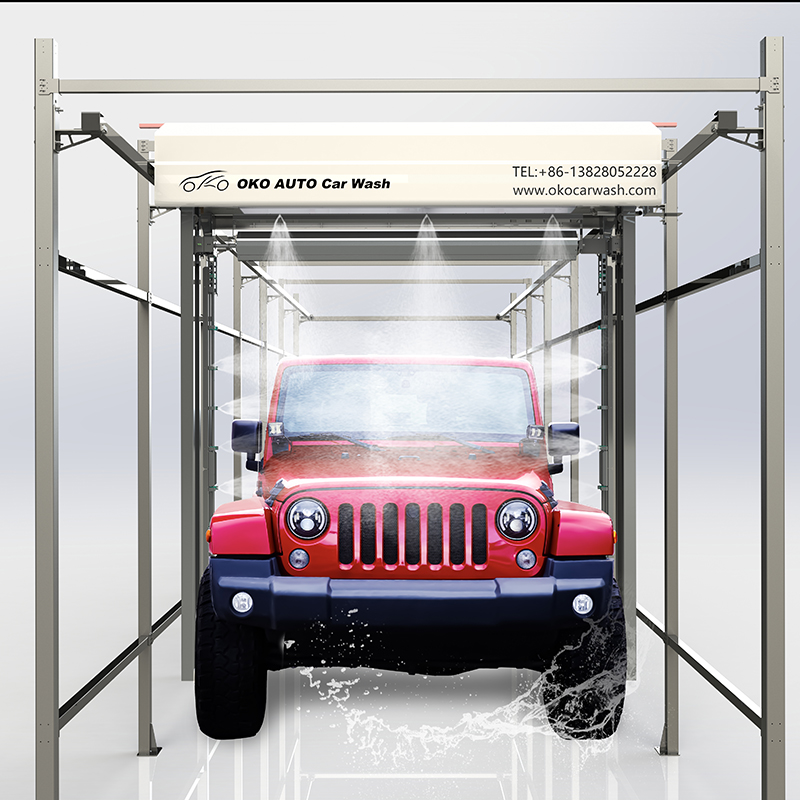 When you don't have time to wash your car by hand, an Auto Car Wash is an excellent option. However, there are some advantages to using a hand car wash instead. Here are some of them: Touchless Auto Car Wash, Friction-based Auto Car Wash, Pressure-washing Auto Car Wash, Prewashing Auto Car Wash, and Touchless Auto Car Wash.

Touchless auto car washes use high water and air pressure to clean vehicles without touching the surfaces. While this may be a benefit for consumers, there are also drawbacks. The main disadvantage is that it is not as effective at removing dirt as a traditional car wash. Additionally, this method can leave your vehicle with a dull finish.
When choosing a touchless car wash, be sure to research the different types available to ensure you get the best quality. Many systems use high-pressure water that can strip ceramic coatings from your car. In order to avoid damage to these coatings, you must also soften the water before using it. This process will remove larger minerals from the water, making it easier for the wash system to work. However, this process can leave a layer of salt on your car's paintwork.
Another disadvantage of touchless car washes is that they use harsh chemicals that can damage the clear coat of your car. This damage can cause the clear coat to fade, peel, or chip. While a car wash is convenient, it should only be used occasionally and in moderation.
Friction-based auto car wash are not for the faint of heart. They often leave streaks and spots that can be difficult to remove. The water used can also contain minerals that can cause permanent damage to the paint. Additionally, the soap and water used can also harm the car's finish. Luckily, there are some alternatives in Sacramento and the surrounding area.
Traditional car washes use brushes to clean vehicles. The friction created is due to the softer side of the brush material. Today, most car wash machines use a closed-cell foam that doesn't damage the vehicle's finish. This means the foam won't get rid of water, which generates friction. The result is a better quality wash and increased revenue.
While friction-based car washes are often more efficient, they can also be more labor-intensive and water-intensive. Some models even wash a car up to 50 cars per hour. Touchless car washes are not recommended for cars because they aren't as effective in removing heavy dirt, bugs, and road grime. A brush equipped car wash is better for removing dust and debris from all visible surfaces and reaches areas that a touchless car wash can't reach.
Pressure-washing your car is more effective than using a hose and a bucket. The water pressure of a hose is usually not strong enough to clean the hard-to-reach areas of your car. Pressure-washing auto car wash machines, on the other hand, have higher pressure and are ideal for cars that need a showroom shine.
When pressure-washing your car, choose the nozzle according to the amount of dirt you have on it. For a standard wash, a 25-degree nozzle works well. This nozzle's higher pressure unleashes a more powerful spray to lift matted dirt and mud. A 40-degree nozzle, on the other hand, is ideal, since it covers a large area at a time.
When pressure-washing your car, you need to choose a nozzle that will not damage your car's paint. A pressure washer that has variable PSI settings is ideal. It should also come with a variety of nozzles. The most pointed nozzle is usually red.
Pre-washing your vehicle is an important part of the cleaning process. The purpose of a pre-wash is to remove all dirt from the surface of your vehicle, including the hard-to-reach places. It also rinses out anything that can scratch the surface. This step is particularly important if you plan to get follow-up treatments on your car. You can purchase various pre-washes from car wash companies, such as Cartec, and apply them to your car before it's washed.
Pre-washing your vehicle will help you avoid the risk of scratches and swirls on your car's finish. It will also ensure that the car's paint is cleaned more effectively and thoroughly. A pre-wash product creates a snow foam that loosens dirt from the surface, preparing it for the deeper cleaning process.
Before washing your car, make sure that all parts are in working order. A faulty part could cause further damage and cost you extra money. Checking these parts is essential to avoid hassles at the car wash.
Auto Car Wash
car wash machine
automatic car washes